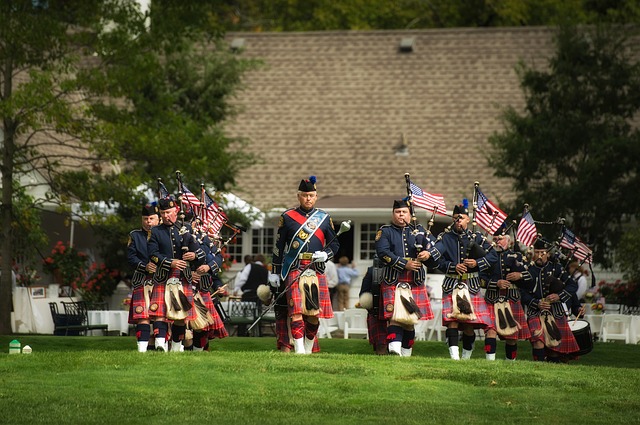 11 Facts About Bagpipes That'll Make Your Hair Stand On End
Bagpipes were considered a weapon at one point because they were used to frighten the enemy
The bagpipes took the place of trumpets in battle in 1549 at the Battle of Pinkie Cleugh
The shrill, penetrating sound works well in battle
Bagpipes can be heard up to 10 miles away
The sound of bagpipes can reach 111 decibels which is louder than a pneumatic drill, power saw and power mower
Bagpipes were made from an inside-out goat
Pipes can be made of wood or plastic
The reed can be made from water reeds, animal antlers, brass, metal or plastic
The chanter is the pipe that can play multiple notes while the drones play a single note
The chanter is never silent and its volume does not vary
 The bagpipe can only play 9 notes from G to A with no sharps or flats
Not invented in Scotland
#3 – Famous people love the bagpipes
#4 – The bagpipes were banned in Scotland by George II
After the defeat of Bonnie Prince Charlie at the Battle of Culloden, an Act of Parliament was passed in 1746 banning various aspects of Highland culture such as wearing kilts and tartans as well as owning weapons and bagpipes. Owning bagpipes brought a death penalty such as that dished out to piper James Reid. Reid was a POW captured at the Battle of Culloden and hung for owning bagpipes. He protested that they were merely a musical instrument, but they answered that an army never fought without a piper at its head and the bagpipes were qualified as a weapon of war. The Act of Parliament banning highland cultural elements was repealed in 1785.
#5 – Bagpipes are in the Aerophone family
Bagpipes produce sound by causing a body of air to vibrate without membranes or strings or the vibration of the instrument contributing significantly to the sound. They are also qualified as a double woodwind instrument.
#6 – The song "A Flame of Wrath for Patrick MacCrimmon" is based on a historical event
Donald Mòr sought vengeance for the murder of his brother, Patrick Caog. He went to the village of Glenelg and set fire to eighteen houses because they would not turn his brother's killer over to him. He is said to have stood on a hill playing his vengeful tune while the village burned.
#7 – There are more pipers in New Zealand and the United States than there are in Scotland
Australia, Canada, New Zealand and the United Kingdom use bagpipes in their military ceremonies and in police services.
#8 – Pipers were banned from playing into battle in 1915 due to the unbelievable carnage of WWI
3000 pipers were killed "going over the top" in the face of relentless German machinegun fire. The practice of having pipers lead troops into battle was suspended in the face of the horrific casualties experienced in Tommy Charges during The War To End All Wars
#9 – Flaming Bagpipes!