2017 Black Friday Shopping
The day after Thanksgiving is known as "Black Friday". This day is typically one of the busiest shopping days of the year. For many, this signifies the first day of Christmas shopping. While the term Black Friday was originally used to represent the day on which retailers return to profitability, many retail workers use this term to describe the chaotic crowds who do their Christmas shopping on the day after Thanksgiving. Likewise, consumers expect killer sales to go along with the madding hordes who invade the stores.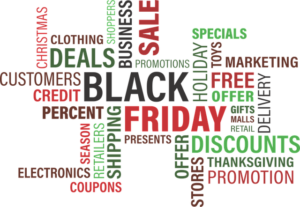 For many, shopping on the day after Thanksgiving is a tradition they wouldn't miss for the world. These folks look forward to the sales and start their shopping as a way to get into the Christmas spirit. These intrepid shoppers can be counted on to arrive before the malls and shopping centers even open in order to get a great parking spot so they can make multiple trips to their cars to drop off packages before returning to the shopping area to make even more purchases and to almost literally shop until they drop. These are the diehard shoppers who retailers count on each year to boost their quarterly earnings and to help them lock in profitability for the year.
People enjoy Christmas shopping on the day after Thanksgiving for a variety of different reasons. Some enjoy shopping on this day for the promised tremendous sales. Others enjoy shopping on this day because they like to take things one season at a time, figuring now that Thanksgiving is over; it is time to start focusing on Christmas. There are some others who like shopping on Black Friday for the sake of the excellent opportunity to do some people watching. Whether or not they get any actual shopping done, these individuals flock to shopping malls on the day after Thanksgiving because they know there will be tons of other shoppers to observe. Finally, there are those who start their Christmas shopping on Black Friday out of a sense of tradition. These individuals have simply always started their Christmas shopping on Black Friday out of habit. Perhaps their parents started Christmas shopping the day after Thanksgiving. Perhaps they simply learned this as the way to start Christmas shopping. Perhaps they will pass the habit on to their own children.
On the other hand, there are other shoppers who absolutely refuse to step foot inside a mall or shopping center on the day after Thanksgiving. That would be me! For us trying to get any shopping done on Black Friday is nearly impossible. We are perfectly willing to sacrifice the opportunity to buy some items as gifts at excellent sale prices in order to avoid the insane throng of shoppers who swarm the stores on this one hectic day. However, it is worthwhile to recognize that just because shoppers like myself avoid shopping centers on the day after Thanksgiving does not mean that we don't enjoy great sale prices on the Christmas gifts we purchase. We take advantage of sales throughout the year and online to complete our Christmas shopping within our budget.
Whether you are an early bird Christmas shopper, a down to the wire last minute Christmas shopper or just a people watcher, you surely expect large crowds in malls and shopping centers on the day after Thanksgiving. It is up to you to decide whether or not you choose to join the shoppers on this hectic day.
Goodness knows you won't find me anywhere near a store on Black Friday. God bless you if you do go Black Friday shopping. Everybody has their own tolerance level for such things. Mine is really, really low. I'll be home with a cup of cocoa and a nice quiet book to read.