Xmas Heroes – Charles Dickens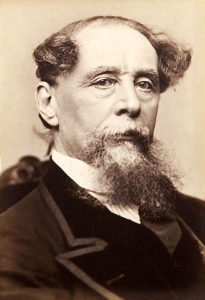 In 1843, Charles Dickens published a novella that has never been out of print at any time from then until today. The story has also been presented in virtually every other form of media. Dickens was already famous for his novels The Pickwick Papers and Oliver Twist when he released this charming tale of a stone-hearted miser's redemption. In saving the old man's soul from eternal punishment, Dickens also revived Christmas.
As mentioned in Historical Grinches – The Puritans, Christmas was considered to be an unruly nuisance and a mainly Catholic celebration. As such, it was basically outlawed and made socially unacceptable. In England as well as America, Christmas had gone out of style. With the telling of this tale, Dickens did a great deal to change that. He felt that creating a nostalgic sense of an English Christmas would restore some semblance of social harmony and well-being in the modern world.
As with so many of his novels, Dickens wanted to cast a spotlight on the plight of the poor. He had originally planned on sufficing with a polemic pamphlet entitled "An Appeal to the People of England on behalf of the Poor Man's Child" but decided to embed the message in a story instead. Well done, Charles. So much the better to let the Ghost of Christmas Present harangue the miserable miser, Ebeneezer Scrooge, as part of his reclamation than to lecture his readers directly.
In truth, Dickens had already used a sample of this story line in The Pickwick Papers. He presented an idealized Christmas at Dingley Dell that is reminiscent of nephew Fred's Christmas gathering and various other scenes that the Ghost of Christmas Present shows to Scrooge. Also, Mr Wardle tells a story about a sexton named Gabriel Grub who undergoes a Yuletide conversion like Scrooge's.
Dickens found A Christmas Carol to be an excellent vehicle to drive the conscience of his contemporaries and all subsequent generations toward the awareness of the needy among us and the awareness that one's own success is an obligation to be generous as Christ commanded rather than as license to assume an air of aloof superiority. As the Ghost of Christmas Present admonishes,
"Man," said the Ghost, "if man you be in heart, not adamant, forbear that wicked cant until you have discovered What the surplus is, and Where it is. Will you decide what men shall live, what men shall die? It may be, that in the sight of Heaven, you are more worthless and less fit to live than millions like this poor man's child. Oh God! to hear the Insect on the leaf pronouncing on the too much life among his hungry brothers in the dust!"
Charles Dickens was the vocal conscience of his age. He sympathized with the plight of the poor in an increasingly industrialized world. Ultimately, child labor was eliminated in our society although it still remains a problem in the developing world. The welfare state is still a problematic issue. It's good not to have people starving in the streets, but with charity comes a host of related problems that we still haven't entirely worked out. Dependence is ultimately servitude of one kind or another. How wonderful that Dickens' insight still speaks to us so poignantly today. How sad that we still haven't learned all of the lessons he sought to teach.
You can read the story for yourself at Project Gutenberg