Fried Chicken for Sunday Dinner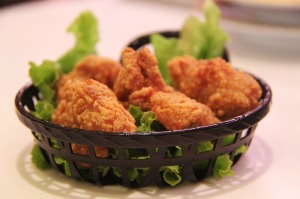 So, I promised recipes way back when the site began and it's about time I gave you some.  We're going to start with a delicious fried chicken recipe that is great for any day of the week.  That being said, there's something really special about Sunday Dinner.  Sitting down around the table with the whole family to have a nutritious meal is a special treat and a time to enjoy the company of your whole family.
1 whole chicken or any combo of chicken pieces
1 to 2 cup of flour for coating
Salt and pepper to taste
4 tbsp. butter
4 tbsp. shortening
2 beaten eggs
2 cups of milk
2 tbsp. parsley
1) Wash and dry chicken parts

2) Combine salt, pepper, and flour and coat chicken
3) Dip each piece in egg mixture and brown each side in hot, melted shortening and butter
4) Lower heat and cook for about 15 minutes more on each side
Note: Use heavy iron or aluminum frypan if possible
5) Remove from pan and drain on paper towels
6) Pour all but 3 tablespoons of fat from pan and return to heat
7) Add 3 tablespoons flour to pan and stir with fat until lightly browned
8) Add 2 cups of milk and some parsley or parsley flakes and cook on medium heat until thick
9) Put in gravy boat and serve with the chicken that you have arranged on a platter
So, there you go.  You've got a marvelous fried chicken dinner that you can serve with your favorite sides.  Bon appetit!