Have a Frostmas Party
I'm a big fan of Winter and of good ol' Jack Frost. When they characterized him as a rascal in the third Santa Clause movie, I thought that was just marvelous. Martin Short's portrayal of Jack Frost was hilarious. One of the things he was being censured by his peers for was promoting his own holiday of Frostmas.fd
Frankly, I'm 100% in favor of it. I even started giving my kids Frostmas presents on the Winter Solstice. Let's take a look at some more of the frosty characters we can enjoy at our Frostmas party.
In
The Year Without a Santa Claus
, Mrs Claus had to enlist the help of the mercurial Snow Miser and his irascible brother the Heat Miser to show Santa that people cared whether or not he participated in the holiday. Now for starters, you've gotta love a guy with his own theme song. Add to that an army of minions who break into synchronized dance at a moment's notice and you've got a character for the ages. To this day, I can't help but smile when I hear this song. He's too much…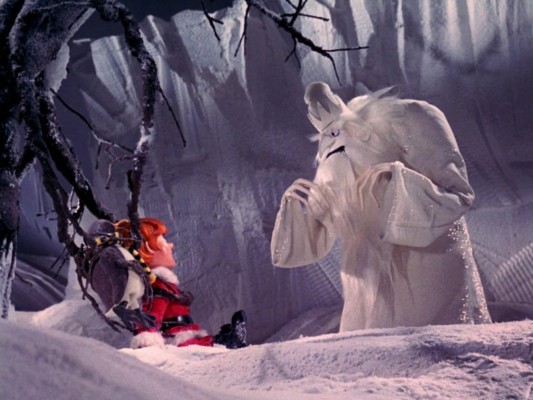 In Santa Claus is Coming to Town, we met the Winter Warlock. He was a menacing elemental figure who commanded the high reaches of the mountains outside of Sombertown. With his special blend of merry kindness and generosity, Santa eventually melts the warlock's heart. He does seem to be a variation of the Russian mythological figure known as Ded Moroz.
After the Russian Revolution, religion was banned as an enemy of the state. Santa was outlawed like he was by the Burgomeister Meisterburger. The fantastical creature Morozko, a snow demon, was sort of Santa-fied and became the embodiment of the holiday season. Instead of Christmas, Father Frost and his helper the Frost Maiden (Snegurochka) gave presents on New Year's Day.
Ded Moroz is a bit more harsh than Santa. Santa will give out coal or even let Zwarte Piet hand out a bit of punishment with his switches. Ded Moroz, like Jack Frost and the Snow Miser, will freeze someone who displeases him as he did in the story of the Unkind Sister. Check out this movie of his legend.
His assistant, the Snow Maiden, is not unlike Santa's elves. She has a story of her own. There are a few variations of the Snow Maiden story which include a child who is created from a statuette of snow who grows to childhood but evaporates while jumping a campfire with her friends. Another version, she is a snow spirit who craves the company of regular folk. She wishes to love a shepherd but cannot. Her mother gives her the ability to love, but it melts her heart and consequently she melts entirely away. In Soviet times, she was rebranded as Father Frost's granddaughter and helper.
So, here's to nippy frostiness! Have a Happy Frostmas and enjoy the winter weather inside or out.