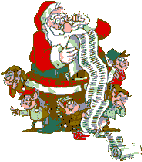 Interesting Holiday Stats
Did you know the vast number of resources processed during the holiday season? Below are a few interesting statistics regarding the number of cards and gifts sent, party food eaten, and more.
Holiday Shopping
Holiday sales are expected to hit $439.53 billion this year. December accounts for roughly 15% of stores' yearly sales, with the exception of jewelry stores for which it is closer to 24%. Most Americans only expect to spend an average of $854 each this holiday reason. On Thanksgiving Day and Black Friday 2013, approximately $12.3 billion was spent.  The new experiment of opening shops on Thanksgiving rather than waiting until midnight on Black Friday resulted in lower percentage of sales on the infamous shopping holiday. Residents of the New England states are anticipated to spend more than the rest of the country, while the South is expected to spend the least overall.
Christmas Cards
Do you enjoy receiving lots of cards in the mail? There are roughly 1.6 billion Christmas cards sent in the United States every year to friends, family members and acquaintances. This makes Christmas the #1 card sending occasion, followed by Valentine's Day and Mother's Day.  The greeting card manufacturers are being heavily impacted by the prevalence of free, instant options available online.
Presents
The number UPS is expected to deliver this year is over 340 million. The busiest day for UPS in the 2013 holiday season was Monday, December 16th when they reached 34 million deliveries, which translates to 394 packages being delivered every second during that day.  FedEx's busiest day was 22 million deliveries on Monday, December 2nd.
Toys
About 45% of shoppers will be purchasing toys this year, with video games and Barbie being the products most sought after.  California leads the nation in toy production with 10 locations that produce dolls and stuffed animals as well as 88 locations that produce games, children's vehicles and other toys.
Party food
Are you tired of turkey once Christmas is over? This may be why. The USDA  approximates that there are more than 244 million turkeys raised in the United States with as many as 60 million making it to the table through the holiday season. Americans eat an average of 13.7 pounds of turkey every year! I know I do my share of compensating for the vegetarians among us.  It is also reported that 7.3 billion shrimp are consumed at as many as 46 million holiday gatherings.  According to a Reader's Digest poll, the favorite Christmas cookie in Pennsylvania is the Pizzelle and the national favorite is the Sugar Cookie.  I certainly enjoy both, but I definitely have a soft spot for a warm chocolate chip cookie.
Decorating
Most malls and other stores begin decorating for the holiday season on November 1st, but as many as 40% begin well before Halloween to get ready for early-bird shoppers.  Shopping centers spend an average of $22,998 on their holiday decorations.  Many retailers begin receiving deliveries of holiday decor in June or July and begin closing out their summer and gardening stock to make way for the yuletide supplies.  You know I love Christmas all year long, but let's at least wait until after Labor Day!
Christmas Trees
If it is your practice to go chop down a tree and lug it home, check this out. There are 20.8 million Christmas trees cut in the U.S. every year, with the most (over 25%) coming from Oregon. Tree farmers reap roughly $506 million from this tradition. There are $69 million in artificial trees imported from China each year. Artificial Christmas trees have outsold real ones annually since 1991.
Christmas Tree Ornaments
China is the largest producer of Christmas ornaments which totals $592 million from January through August. The US Consumer Product Safety Commission estimates there are around 250 injuries per day from decorating accidents and Christmas tree fires.
Holiday Music
The holiday song most frequently played is "Jingle Bells". Bing Crosby's "White Christmas" runs a close second, but it is the #1 best selling Christmas single of all time.