All Aboard!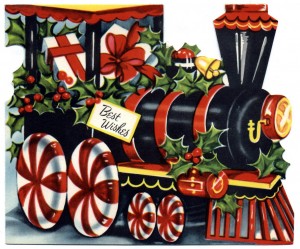 For many people, Christmas just isn't Christmas without a model train around the tree.  Whether you have room for a simple loop around the tree or whether you have a section of your basement dedicated to it or even if you have a whole facility like Roadside America, a model train can take you to a magical world of your own creation.  If you have an interest, there is likely a train just for you.  You can find indoor trains or outdoor trains.  You can find stylistically toyish trains or photorealistic trains.  If you're a real fanatic, you can even find a job 'workin' on the railway'.  Let's talk about some of the variations.
Common Model Train Gauges
G is for Garden
With a 1 3/4″ wide track, it is easy to see why this type of train is considered a garden train.  Few people have room for a train set of this magnitude in their houses.  However, if you have a tree with a fairly high clearance under the bottom branches, the approximately 4′ diameter of a G gauge train's minimum diameter will still fit comfortably under a typical 5 or 6 foot tree.  Despite being a bit pricey, the G is a popular gauge for children due to the stout construction and large pieces.  Another advantage of this size is that the scale is 1:32 which is approximately the same as typical mass market army men.  A typical starter set runs in the neighborhood of $100, but  the manufacturers have come up with some popular branding for the kids such as Hershey's (who doesn't love chocolate?), Polar Express and even Harry Potter.  Needless to say, I'm drawn to the Lionel Lines Christmas Train Set for both the theme and the price!

O & O27 – The classic three rail Lionel
With a nod to nostalgia and no points for realism, we consider the O gauge train a little bit more space efficient but still big enough to be thought of as a kid's train.  The minimum diameter of 27-36″ is still decent for a small tree but you'll need to keep those branches up to ensure that the train clears.  The trains and their accessories have a cool, retro style that makes you feel like you've borrowed it from Beaver Cleaver.  The odd scale of 1:48 is matched by some specialty miniatures, but you're generally stuck in Plasticville or DIY modeling territory.
HO is Half the size of O but considerably more popular
This is where the rubber meets the road.  Possibly the most versatile and well stocked of the train scales, HO is the industry leader.  Strangely, the minimum diameter for circular track of 30″ is not dissimilar to the room required for the double-sized O gauge train.  In my experience this is because of the difference in the tracks.  The scaled realism of HO leaves you with a realistic looking track that results in the train and its cars being rather top-heavy for a sharp curve where the O gauge train has the triple track that has an unrealistically high profile that allows the train and cars to maintain a better grip on the tight turns.  The scale of 1:87 is also not largely in keeping with most non-train oriented miniatures, but in the case of HO that needn't be a deterrent.  The HO market is stocked to the gills with amazingly lifelike and exquisitely detailed accessories.  There are a lot of reasonably priced starter sets available in HO in either the realistic or character themed varieties.  Again, I'm a fan of the Christmas set.

N is the next smaller size
A close second in popularity and in availability of quality, realistic accessories is N gauge.  This 1:160 scale train has a minimum circle radius of 17″ which allows for a much more complex and decorative diorama in the same space required for an HO layout of basic complexity.  This scale is suitable for a small tabletop tree display as well.  If you get the bug for set design, they have starter sets in the realistic, character themed and (of course) Christmas themed varieties.

Z is your world in a briefcase
I have seen these tiny wonders and if you have such a hankering for trains that you're willing to have a train set in a brief case, this is an option for you.  The Z scale has an 11″ diameter circle and stand at a 1:220 scale ratio of actual train size.  They're a bit of a specialty item but you can find sets for sale on eBay or from specialty vendors.  Even at this tiny scale they have Christmas themed sets.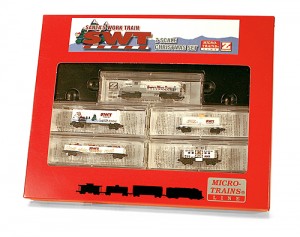 Gateway to a lifelong hobby
Oh sure, you start off with a loop around the Christmas tree but soon the enchantment takes hold.  You're struck with the urge to turn some corner of your home into a permanent diorama.  But how to get started?  Dude, where are you right now?  Look it up for pity's sake.  You've got the endless wealth of knowledge known as the Internet right here at your disposal.  You can get fantastic tips from any number of helpful sites such as the Model Trains blog at About.com or from vendors such as Lionel and Bachmann.  There are any number of wonderful books on the topic if you need to get your hands on the material in order to wrap your head around it.  Here's an interesting course on model trains for beginners and enthusiasts.
Let's get real
Okay, let's just say for the sake of argument that you've gone completely around the bend and you've got choo-choo on the brain.  Here's an offer to help you land your dream job on the railroad.  Say, you've got to pay for all of this track and rolling stock somehow, right?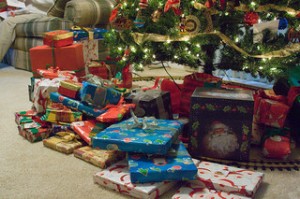 I hope you've enjoyed this little jaunt down the tracks and learned a little bit about the different kinds of model railroads.  Please share your own memories and tips with us!
| | |
| --- | --- |
| Amazon Affiliate Disclaimer | FTC Disclosure |
| Christmas All The Time is a participant in the Amazon Services LLC Associates Program, an affiliate advertising program designed to provide a means for sites to earn advertising fees by advertising and linking to amazon.com. | FTC Required Website Disclosure: You should assume that the Owner of this Website has an affiliate relationship and/or another material connection to the providers of goods and services mentioned in this website and may be compensated when you purchase from a provider. You should always perform due diligence before buying goods or services online. The Owner does not accept payment or merchandise in exchange for the reviews themselves. They are written objectively and with honesty. |