Nativitygram
My goodness, can you imagine if they had text and social media back in Bible times? The creative folks at TXT Stories have their ideas of how that might go.
LOL, can you even imagine?
On a personal note
I made my darling daughters each a hand sewn pillow. The "fat quarters" from the Walmart fabric area were just the right size. My elder daughter is a Teenage Mutant Ninja Turtles fan, so I found some TMNT material for one side of the pillow and orange (Michaelangelo's color) for the reverse side. I also bought a Michaelangelo applique for the orange side of the pillow. My younger daughter likes Wonder Woman, so I found some WW material and matched the magenta color in the background and borders for the reverse side of the pillow. A bag of stuffing for each pillow and a bit of hand stitching later and my daughters have snazzy character pillows as a handmade gift they can enjoy as a decorative throw pillow or just to rest their busy heads on.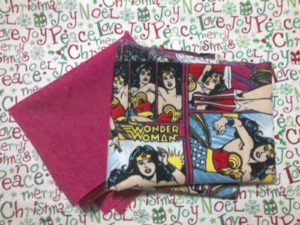 Did you make anything awesome for your loved ones this year? Let us know all about it