Santa's List & Cookies
A lot of kids have already penned their letters to Santa by now, but if yours haven't it's not too late. Today is the day when Santa finalizes his Naughty and Nice lists. Most likely, your kids are on the Nice list. Santa is pretty lenient, but he wasn't always so mellow.
In earlier years, the various versions of Santa found throughout Europe had a sidekick who dished out his own version of Christmas cheer. Known by a variety of names such as Knecht Ruprecht, Zwarte Piet (Black Peter) or even the diabolical Krampus, this fellow carried a bundle of switches to beat the bad children. Fortunately, Santa has moved beyond the good cop / bad cop paradigm and settles for a Naughty List.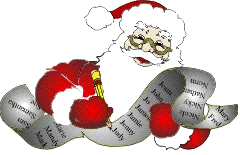 If you'd like to give your kids a little taste of the Naughty List, you can go to Portable North Pole and create a customized video where Santa calls your child by name and lets them know where they stand. It's also fun for the grown ups.
My kids recently handed me their lists for Santa. It's a special time of the year when your kids think hard about what they'd like to see under the Christmas tree. I remember my own childhood when I'd scour the pages of the Sears catalog looking through all the exciting things they had in stock.
Another great way to touch base with Santa is to go see him at the mall or a big department store. If you're lucky, there is even a Santa who can come to your home like my friend Santa D. A professional Santa like Santa Dwight will provide a truly magical experience for your whole family.
So, once you've cleared the Naughty or Nice threshold and gotten your wish list off to Santa, there's one more detail to consider: Cookies!
Santa does a lot of work on Christmas Eve delivering all those toys and he needs his cookies and milk to keep him going. Since it's National Cookie Day, it's only right to think about getting some practice on those cookies. I've found a playlist with 27 different types of cookies that you can try your hand on.

I've always been a fan of chocolate chip cookies, particularly when they're fresh out of the oven. I'm also crazy about Italian Rainbow Cookies and Pizzelles. I love the wonderful flavors of the holiday season and cookies are a great way to get in the spirit of things. Another benefit of Christmas Cookies is explained in this song by George Strait, performed by Scotty McCreery. Enjoy!