Sesame Street PAL (Product Review)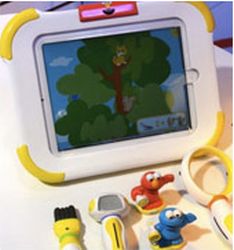 The Sesame Street PAL (play and learning) system is a shell for your tablet (such as an iPad) that turns it into a hands-on learning console. Designed for toddlers and young children, its interactive format helps you to educate and entertain your kids.
This has been designed by Hasbro along with Sesame Workshop (a non-profit educational organization). It will be launched along with a whole new range of Sesame Street products. The PAL system features a case, which the tablet can be inserted into making it safe and fun. Simply buy the case that fits your tablet or iPad, download the app and then let your kids explore a world full of exciting and informative videos and games.
How Much?
Set to be released later this year, it is due to retail at around $39.99 for the frame and interactive magnifying glass. Additional interactive tools and figures will be sold separately.
Who would buy the Sesame Street PAL?
The new Sesame Street PAL is aimed at toddlers and preschoolers, so it would be a great buy for anyone with young children. If you want to give them something that helps them to learn while they explore and play, this is just the toy you are looking for.
Things we like about the Sesame Street PAL
Its safety case, with rubber-protected corners and a stand to enclose the tablet, is great for protecting your device. It can also be used to hide the menu button so your child cannot accidentally get onto other apps or programs. There are also two different sizes to select from based on which tablet you have.
Things we don't like about the Sesame Street PAL
One downside so far is the fact that most of the accessories are sold separately. This makes it impossible to access specific areas of the system without additional purchases. Another drawback is that it only works with an Android tablet or iPad, so if you don't own one you can't use this system. This closes the door for users of Windows tablets. We also foresee that the manner in which toddlers use touch screen devices could pose a risk of damaging the tablet's touch screen. Various features are accessed by pressing the accessories to the touch screen and small children have a tendency to hammer on surfaces with other objects when they are free to do so.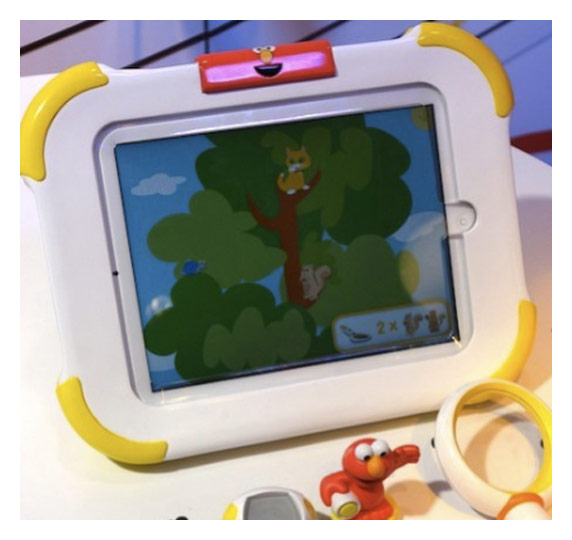 Guarantee?
It is unknown at this time what the guarantee will be on the PAL system.
Is the Sesame Street PAL worth the money?
Retailing at $39.99 it seems to be good value for money. When it comes to your child's education this is a great tool to helping them learn while they play. It's also a great way just to keep them occupied if you have something like a long car journey as the PAL and your tablet are portable.
Where can I buy the Sesame Street PAL?
The PAL will be available on leading online stores, such as Amazon.com. It will also be available in most major children's toy stores.
| | |
| --- | --- |
| Amazon Affiliate Disclaimer | FTC Disclosure |
| Christmas All The Time is a participant in the Amazon Services LLC Associates Program, an affiliate advertising program designed to provide a means for sites to earn advertising fees by advertising and linking to amazon.com. | FTC Required Website Disclosure: You should assume that the Owner of this Website has an affiliate relationship and/or another material connection to the providers of goods and services mentioned in this website and may be compensated when you purchase from a provider. You should always perform due diligence before buying goods or services online. The Owner does not accept payment or merchandise in exchange for the reviews themselves. They are written objectively and with honesty. |