Top 10 Benefits of Holiday Music
The holidays are a time of year when may be looking for some different ways to soothe, center, elevate, and re-energize yourself. Music is a great medium for getting on top of cascading emotions or just to get in the groove with the hustle and bustle of Christmas shopping. The EQ Foundation Course© emphasizes the fine arts as a complement to Emotional Intelligence, but the coarsely commercial stuff is helpful too. We recommend:
1. Do you need to get centered and grounded?
The Winter Solstice is literally the time when the 'Sun stands still', so it's only natural that we should seek to do the same.  Be still and find your connection with your spirituality.
If you are religious, Advent and Christmas hymns are just the thing to remind you of the Reason for the Season.  Break out your favorite CD's or even tapes or vinyl if you still have it.  I've always found "Veni Veni Emmanuel" to be particularly stirring as well as "The Christmas Shoes" for a sentimental holiday tearjerker.
If you aren't, I can recommend some stirring Christmas favorites like "I'll Be Home For Christmas" or "The Carol Of The Bells"
2. Do you need to deal with the memory of loss or seasonal blues?
Only classics will do and inspirational tunes such as "Jesu, Joy of Man's Desiring" and "Joy To The World" will put the light back into the darkened corners of your heart.
3. Do you need to simply lighten up?
How can you go wrong with cartoon classics such as the Chipmunks "Christmas Don't Be Late" or "Charlie Brown's Christmas" or even the absolute classic "You're A Mean One Mr. Grinch"
4. Do you want to max out on spiritual Christmas beauty?
Classical works like Panis Angelicus, the "Hallelujah Chorus" and Vivaldi's "Winter" Concerto will rip your heart out of your chest, slap you in the face with it and mount it like the star on top of your Christmas tree.
5. Do you want something Christmassy but light?
To get completely upbeat, light and fun there are holiday classics like "Let It Snow", "Dominic The Italian Christmas Donkey" and even "Sleigh Ride"
6. Are you soooo done with all things Christmas?
Whatever are you doing here then?  This is Christmas All The Time!!! Okay, so you need to detox a bit even though the radio is playing holiday tunes 24×7 no matter where you tune in? There's Adam Sandler's "Hannukah Song", Teddy Pendergass' "Happy Kwanzaa" or even "Santa Claus is Pagan Too" by Emerald Rose.  If you want to go completely mean, there's "Father Christmas" by the Kinks.  We don't believe in Claus-abuse here, but there you are.
7. Are you harried, hurried and hassled and in absolutely no mood for jolliness?
Get over it! Christmas is jolly whether you like it or not. Sheesh!  Try something along the lines of "Mele Kalikimaka", "Little Saint Nick" or "Jingle Bells" to get you back in the right frame of mind for Christmas frivolity.
8. Do you need to be inspired and to get in touch with the spiritual side of Christmas
Uplifting classics like "Once In Royal David's City", "Ave Maria" and "Cantique De Noel" are just the ticket for getting in touch with the spirit of Christmas.
9. When you want to bust it ol' school
If you need a break from traditional Christmas tunes, you can groove with "Christmas In Hollis", "Rock The Bells" and "Auld Lang Syne" to give the holidays a little somethin' somethin'.
10. Getting back to simple, traditional tunes in simple traditional ways
Hearing "Silent Night" in the original German is a touching way to jump back to the early days of the modern celebration of Christmas.  This world famous song was written in 1818 when pastor Joseph Mohr asked his friend and church organist Franz Gruber to put a poem to music for the Christmas service.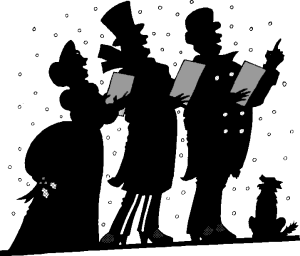 Christmas Carols and secular fun songs are a great way to celebrate the holidays and release the year's cumulative stress.  Whether you're feeling happy, sad or anywhere in between you can always crank some tunes to get you back in the spirit of things!