Two…One…Zero!  The Countdown Is On!
Only 210 days until Christmas, people!  How utterly cool is that?  
Have you begun laying your plans for how to save for the holidays?  Are you going to spend yourselves into oblivion?  I certainly hope not.  If you start planning now and laying presents aside periodically over the next 210 days, you can have the sort of Christmas where the presents are piled high but the debts are not.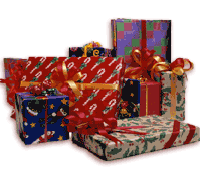 The only thing more magical than waking up to a mountain of presents on Christmas morning, is the light of joy in a child's eyes at the sight of it.  That's my favorite Christmas present.  A bunch of gleeful kids tearing into the ribbons and paper.
However, let's not get lost in the commercial hype.  There's certainly more to Christmas than presents.  Consider that you have over two hundred days to get yourself and your family in the holiday frame of mind.  How can you live the Christmas spirit through the heady days of Summer?  With an attitude of gratitude!  That's how you keep Christmas all the days of your life just like the reformed Mr. Scrooge.
Be kind.  Be considerate.  Be thrifty. Be well.  This is how you arrive at Christmas brimming with the holiday spirit instead of grumpy as a Grinch.  A little planning now will make your holidays stress-free and enjoyable.  Give yourself an early Christmas present and prevent a headache down the road.  When Black Friday comes around, you can sleep in and let the last-minute shoppers do their mad dance.
We, here at Christmas All The Time, will be stocking up with recipes, decoration ideas, stories and lots of quality offers to help keep your holidays bright.  Stay tuned…