Big Hugs Elmo (Product Review)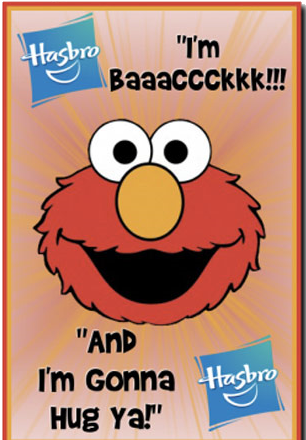 The show Sesame Street and its furry monsters have always been a favorite of children and adults alike. With many characters having been made into toys, the always popular Elmo learns new tricks every single year to stay entertaining. Each new year has seen Elmo become increasingly interactive. Taking this to a whole new level is Big Hugs Elmo. This is set to become the most popular Elmo toy thus far.
Big Hugs Elmo is 22" tall and is delightfully cuddly, made with a soft plush fabric. He responds to hugs and cuddles. He is so interactive that he almost feels like the "real thing". He sings several songs, including a lullaby when he's being rocked to sleep. He actively encourages a child's imagination with various ideas for pretend play. He can interact when he's being rocked or bounced around. He is even sensitive enough to tell you when he's being held upside down.
How Much?
This toy is currently retailing at $49.00, which is a bargain for the sophisticated personal interaction that it performs.
Who Would Buy Big Hugs Elmo?
This toy is recommended for children aged 18 months to 4 years, and we suspect that more than a few adults would consider one for themselves. The toy provides an engaging, chatty little companion for toddlers and young children and will encourage their imaginations.
Things we like about Big Hugs Elmo
Where should we even begin? There are so many great features to enjoy! Big Hugs Elmo has a highly intricate degree of interactivity which children will find simply captivating. He has flexible arms and a soft plush head. He is the largest and most huggable toy in the collection.
Things we don't like about Big Hugs Elmo
The only negative point we can see is that this toy is only recommended for ages 18 months and up and while younger siblings may be enchanted by him, he may not be appropriate for them and this could lead to squabbles. Also, he needs 4 x AA batteries. These are not supplied. Hasbro hasn't clarified how quickly the sophisticated interaction features will drain the batteries.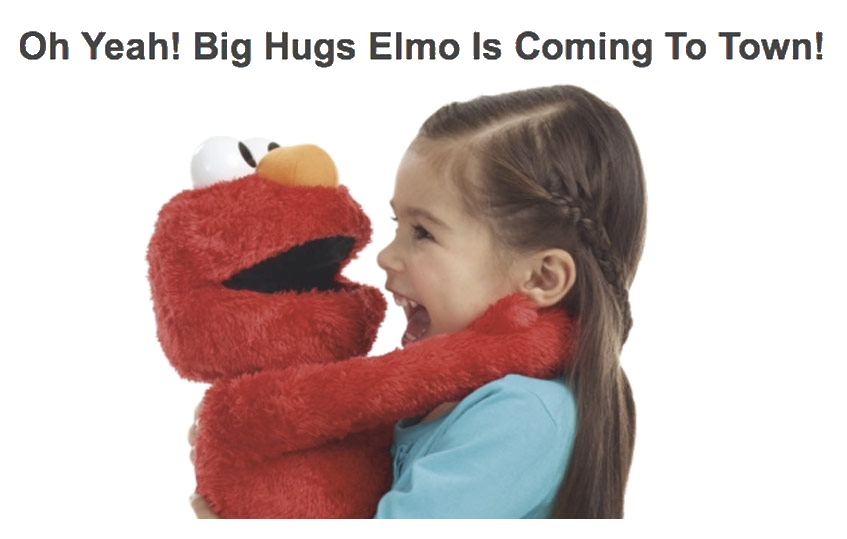 Guarantee?
Big Hugs Elmo is made by Hasbro, who pride themselves on their excellent safety standards. This should give parents assurance that they are buying a safe, quality toy.
Is Big Hugs Elmo Worth The Money?
We give high marks to the new Elmo because he is one of the most sophisticated interactive toys currently available. The fantastic interactivity will have your toddler believing that you have brought home the real Elmo as their own personal playmate. This is a toy that will not soon see the back of a closet or the bottom of a toy chest.

Where Can I Buy Big Hugs Elmo?
Big Hugs Elmo is available to purchase from most major toy retailers and online sites such as Amazon.com.

| | |
| --- | --- |
| Amazon Affiliate Disclaimer | FTC Disclosure |
| Christmas All The Time is a participant in the Amazon Services LLC Associates Program, an affiliate advertising program designed to provide a means for sites to earn advertising fees by advertising and linking to amazon.com. | FTC Required Website Disclosure: You should assume that the Owner of this Website has an affiliate relationship and/or another material connection to the providers of goods and services mentioned in this website and may be compensated when you purchase from a provider. You should always perform due diligence before buying goods or services online. The Owner does not accept payment or merchandise in exchange for the reviews themselves. They are written objectively and with honesty. |