Gift Ideas – Candy
Candy is one of the sweetest gifts to give your special friends and family at Christmas! You have options all year long, but there are some unique selections you may want to choose as gifts this year.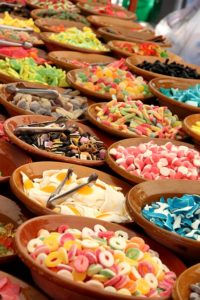 Candy Crate offers retro gift boxes of candy from various decades. You can get a gift box of candy from every decade dating back to the 1940s as well as vintage candies from the 1800's and 1900's. This generally makes a great birthday gift, but it's perfect for Christmas, too.
All of the gift boxes differ according to what was popular during that decade. For instance, the 1940s gift box will include candies like bubble gum cigars, Slo Pokes, taffy, candy cigarettes, Sugar Daddies and much more. The 1980s gift box would feature candies popular then, such as Jolly Ranchers, wax fangs, Fruit Stripe gum and more.
Candy Crate even has some Christmas-themed gifts you can consider, like the Nutcracker Tower Candy Gift Box that's filled to the rim with classic candies like candy canes, coal candy, peppermint puffs and more.
Ferrero Rocher is a popular Christmas candy you probably see featured in stores you frequent during the holidays. Each piece of candy is carefully wrapped in a gold foil, making the appearance of the gift as striking as the taste!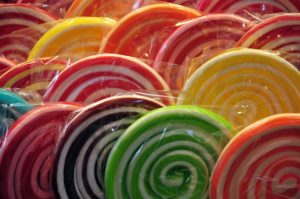 If you're buying for kids, then you may want to send the Art of Appreciation Gift Baskets Fun and Games Snacks and Treats Care Package Gift Box. It's filled with lots of classic, portable games, popcorn and candy.
A more elegant candy gift basket for adults or families that's made by the same company is the Art of Appreciation Gift Baskets Large Sweet Sensations Cookie, Candy and Treats Gift Basket. This comes with butter cookies, toffee, truffles, wafers, buttermints, cream puffs, caramel corn, cookies, cake and more.
Or, you might order another Art of Appreciation gift – the Sweet Sentiments Cookie, Candy and Snacks Gift Tower. This is a gorgeous set of gift boxes designed with red and gold details. The boxes are packed with luscious sweets like toffee, chocolate truffles, shortbread cookies and bonbons. The decorative boxes are well worth keeping for reuse.
Broadway Basketeers makes a sweet treat that's perfect to give as a gift – the Celebration Gift Tower with Sweets & Nuts. These boxes are also very ornate and they're stuffed with taffy, toffee peanuts, caramel cookies (salted), and traditional chocolate chip cookies.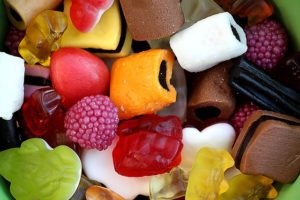 Before you buy a candy gift for someone on Christmas, please be sure they don't have any specific food allergies, like peanuts or tree nuts. And if they have special dietary needs like gluten free or sugar free versions, you can find gift baskets that cater to their needs!