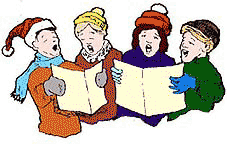 Let the music play
One of the many special things about Christmas is the music. No other holiday or season is attended by a month of 24×7 radio stations dedicated to playing music specially dedicated to the season. This extended playlist of sacred and secular, traditional and contemporary tunes grows every year with new interpretations, nuances and with original creations.
Some groups bank on their fame to promote the playing of their versions of various traditional tunes. It's thought that because pop music is pushed off the radio for the season, popular performers want to keep their voices within earshot of their fans and the general listening populace. It could be that they also want to cash in on the popularity of Christmas music in general.
Likewise, bands and performers typically release new albums during the holiday season in order to help boost potential sales in the form of Christmas gift purchases for fans. They will also release holiday music albums to add to the variety available for the radio.
Others depend on talent alone to justify their addition to the corpus of the continuous collection. These guys fall into that second group.
Posted by Classic FM on Thursday, December 14, 2017
Music at Christmas time is important to stir the holiday spirit. Everyone has particular Christmas songs and carols that are favorites, maybe for the melody, the lyrics or because they are reminders of special memories.
The most popular Christmas song is said to be White Christmas. It's popular even in warm and tropical climates where people sing of 'dreaming of a White Christmas', which wouldn't be very practical.
Other popular Christmas songs and carols are: Silent Night, Away in a Manger, O Holy Night, Joy to the World, Hark the Herald Angels Sing and Angels we have Heard on High. Each of these songs are sacred as they are all about the story of Jesus' birth. Of note also is Handel's majestic 'Hallelujah Chorus', which is a favorite that choirs like to sing because of the splendor embodied in the music.
Nat King Cole's Christmas Song is a contemporary favorite. It evokes happy holiday themes and moods such as you find in songs like Sleigh Ride and Rockin' Around the Christmas Tree. Among secular Christmas songs, there are also funny ones such as I Want A Hippopotamus For Christmas, All I Want For Christmas Is My Two Front Teeth and I'm Gettin' Nuttin' For Christmas.  Another sub-genre of secular Christmas songs is the character songs such as Rudolph the Red-Nosed Reindeer, Frosty the Snowman and Dominic the Donkey.
Christmas music is such a broad field that it makes it possible to choose songs for any occasion. There are songs for general listening at home, for a fun informal party or for a formal dinner. As an example, Christmas songs can be chosen to create the right mood at the start of a party, followed by more lively music when the party is in full swing, and still more to slow down the pace when the party is winding down.
Professional choirs, symphonies and orchestras often record performances of Christmas music on albums. For true music aficionados, these albums will provide wonderful listening experiences and make splendid Christmas presents. Listening to albums of these performances is almost as immersive as attending live concert.
Whichever selections of Christmas music are your favorite, it's guaranteed to create a festive mood and imbue the holiday spirit wherever you go.